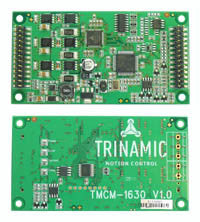 TMCM-1630
TMCM-1630
FREE SHIPPING US 48 - Now in Stock.
In house technical support for all Trinamic products.
Product Details
Description
The TMCM-1630 is a controller / driver module for general brushless DC motor applications. It supports block commutation with hall sensors or sensorless with hallFX™ as well as sine wave commutation with incremental encoder. The module can be used in stand alone operation or remote controlled via serial interface (RS232, RS485, CAN or USB) using the TrinamicMotionControLanguage TMCL. Its small form factor (50 x 92 mm²) allows for integration onto a user board as a plug-on module or for panel mounting, by connecting flat ribbon cables to the two 2x13 2.54mm standard header connectors. A baseboard for one TMCM-1630 is available (BB-1630).
For applications with encoder and hall sensors choose firmware version V2.05 (Field Oriented Control).
For applications with hallFX choose firmware version V1.47.
| | | |
| --- | --- | --- |
| | TMCM-1630-2C | TMCM-1630-4U |
| Interfaces: | a/b/n incremental, CAN, RS232 | a/b/n incremental, RS485, UART |
| No. Axes: | 1 | 1 |
| Phase Current, RMS: | 10A | 10A |
| Phase Current, peak: | 14A | 14A |
| Product State: | active | active |
| Supported Motor Type: | BLDC | BLDC |
| Velocity Ramps: | trapezoidal | trapezoidal |
| FOC | | |
| Slope Control | | |
| brake before make | | |
| short to GND detection | | |
| Motor Supply: | 12...48V | 12...48V |
| Length: | 92mm | 92mm |
| Width: | 50mm | 50mm |
Downloads