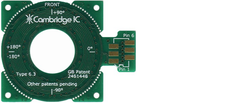 35mm Rotary Sensor Type 6.3
35MM Rotary Postion Sensor Type 6.3
A resonant inductive position sensor for measuring over a full 360°of rotation. Works with CambridgeIC's Central Tracking Unit (CTU) chips to provide high-quality position data to a host device.
The sensor has two sets of sensor coils: one for taking fine incremental measurements at high accuracy and resolution and another for coarse, absolute measurements. The sensor is Type 6, Subtype 3 (Type "6.3").
The sensor is connected to a CambridgeIC CTU chip, which combines the information from both sets of coils to deliver an absolute, high accuracy and high resolution output to a host system.
Features 
 F

ull absolute sensing over 360 Degree

6-layer PCB process

15mm hole, e.g. for through shaft

34.2mm diameter copper coil pattern

Target can be sensed from front or rear of PCB
Target
Simple design using 2 wound ferrite rods
Balanced for immunity to misalignment
No hole required for the rotating shaft: can be mounted from the side
Applications
Motion control
Actuator position feedback
Precision front panel controls
Contactless dial reading
Valve position sensing
Absolute Optical Encoder replacement
Downloads