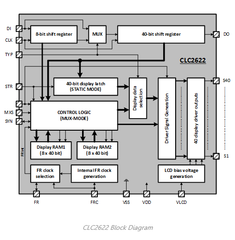 CLC2622 – LCD Driver
FREE SHIPPING U.S. 48 
In house technical support provided for all Creative Chips products!
CLC2622 – LCD Driver
The CLC2622 is a LCD Driver with either static mode driving up to 40 segments or multiplexing modedriv ing up to 8 rows and 32 columns. A display storage is available via a dual RAM to be addressed by 8x40 words.

The large voltage range and a low current consumption makes the driver suitable for a variety of different LCD display. Also large pixel size applications are supported due to the low driver impedance. Several CLC2622 can be easily cascaded, no external resistor bias chain and no external clock is necessary.
Static- or multiplexing LCD driver

Programmable mux mode

Mux2: 2 rows and 38 columns

Mux4: 4 rows and 36 columns

Mux8: 8 rows and 32 columns

Drives up to 40 segments in static mode

Dual RAM for display storage 

addressable as 8 x 40 words
LCD blanking by BLANK bit and STR signal

All segments on by SET bit

On chip LCD bias voltage 

generation

On chip display refresh

Synchronize feature for large 

LCD applications

On chip FR clock generation

Serial data input/output
Datasheet

 
File
Size
Modified
CLC2622 Datasheet
1.01Mb
01-Aug-2016
 

Documentation

 
File
Size
Modified