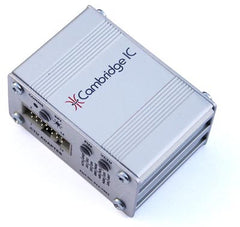 CTU Adapter
CTU Adapter         
For demonstration, test and development purposes, it is convenient to communicate with CTU chips using a PC. The CTU Adapter converts between the SPI interface of CTU chips and the USB interface of a PC. The Adapter is an SPI master and the CTU is an SPI slave.

Features
USB powered
Selectable CTU power supply: 2.7V, 3.3V or 3.6V
Adapter firmware can be updated in the field
Full speed USB operation
Interface DLL available for software developers
Compact, rugged, metal housing
Supplied with USB and SPI cables
Performance
100 SPI write/reads per second (typical PC)
1Mbit/s SPI clock rate
SPI timings compatible with CTU chips
100mA max power supply output current
Applications
Connecting CTU chips to a PC for demos and test
Developing CTU chip applications
PC based measurement systems
A CTU Development Kit is also available, and includes the CTU Adapter together with CTU Development Board, sensors and targets. This is recommended for getting started.