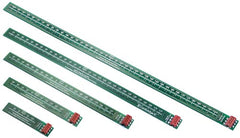 Basic Linear Sensors Type 1
 LINEAR SENSORS TYPE 1
Type 1 sensors are robust, precise and simple. They are also narrow - 10mm wide - which means they can fit in tight spaces. Standard sensors are available from 25mm to 300mm measuring length.


A single CAM204 Central Tracking Unit (CTU) chip can operate up to 4 Type 1 sensors, including a mix of linear and rotary.

Features
Simple non-contact target
Full absolute sensing
Standard 4-layer PCB process
Stable across temperature
Highly repeatable
Performance
Up to 5mm Target Gap
< ±0.25% Linearity Error at optimum Target Gap
Position change < ±0.2mm across -40°C…85°C, ≤ 3.5mm Target Gap
< ±0.25mm Position Offset Error
Up to ±1mm Y Misalignment
Can be installed 2mm from aluminium sheet
Applications
Motion control
Actuator position feedback
Precision front panel controls
Valve position sensing
Industrial potentiometer replacement
LVDT replacement
The CTU Development Kit includes the following linear sensors: 25mm, 50mm, 100mm and 200mm.
Downloads

Type 1 Linear Sensors Datasheet