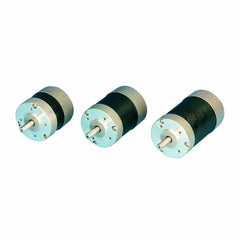 MB057GA BLDC Motor
These Exmek Electric BLDC motors are a great match to the TRINAMIC family of high current BLDC motor modules.
Specifications
Features
4pole with 3phase winding
Continuous Torque from 0.14 to 0.48Nm
Speed up to 2900 rpm, High Dynamic performance
Hall effect commutation (120 degree), very low cogging torque
Ins. Class B, higher insulation and protection optional
Flange Mounting According IEC 34-7
NEMA 23 flange available  
CE approved
RoHS compliant
We can also customize the winding to perfectly match your voltage, current, and maximum operating speed. Special shaft modifications, cables and connectors are also available upon request. These motors are available in both single and dual shaft options.
Available models
MB057GA100, l=65mm, 2600rpm, 0.14 Nm
MB057GA200, l=85mm, 2800rpm, 0.27 Nm
MB057GA300, l=105mm,2800rpm, 0.39 Nm
MB057GA400, l=125mm, 2900rpm, 0.48 Nm