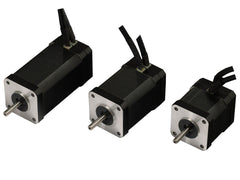 ME042AS BLDC Series Motor
These BLDC motors are a great match to the TRINAMIC family of medium and high current BLDC motor modules.
Features
No. of poles: 8
No. of phases: 3
nominal 3000 RPM at rated torque
stepper compatible 42mm flange
5mm axis diameter, 24mm length
typical 24V operating voltage
up to 48V possible
integrated hall sensors
CE approved
RoHS compliant
We can also customize the winding to perfectly match your voltage, current, and maximum operating speed. Special shaft modifications, cables and connectors are also available upon request.
Available models
ME042AS100, l=50mm, 3000rpm, 0.1 Nm
ME042AS200, l=68mm, 3000rpm, 0.2 Nm
ME042AS300, l=88mm, 3000rpm, 0.3 Nm

Documentation
Related products
TMCM-1640 BLDC Motor Control Unit