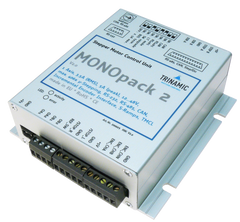 MONOpack 2 V2
FREE SHIPPING U.S. 48
In house technical support provided for all Trinamic products.
1-axis stepper controller/driver 3.5A/48V with encoder interface
The MONOpack 2 V2 is a highly integrated stepper motor controller unit in a small and robust housing. It provides a high motor power and dynamics. A variety of control interfaces and protocols provide a simple means of remote control or stand alone functionality for all purposes. Its optional incremental encoder feedback and a number of protection features makes drives very dependant and reliable.
A Windows based PC software is supplied to explore the possibilities of the MONOpack 2 and to program its stand-alone functionality using simple TMCL commands.
In terms of software and current settings the new MONOpack 2 is fully compatible with the old MONOpack and MONOpack LT while providing a number of enhanced features.
The newest version V2 is ROHS compliant and has a new "resonance avoiding high velocity feature".
Specifications
Electrical data
up to 3.5A RMS coil current (5A peak)
supply voltage 12V to 48V
up to 406 times microstepping
Supported motors
2-phase bipolar motors with
1A to 3.5A coil current
optional incremental encoder (2 or 3 channel)
Interface
CAN, RS485 and RS232 serial interface
step / direction (differential)
I/Os: Limit and reference switch inputs
incremental encoder input
Features
highly dynamic and fast response drive
automatic S-shaped ramp generation
closed loop for exact position maintenance or positioning check / retry
fully protected driver
chopSync

TM

feature for high motor velocity by reducing resonances
Software
3 Firmware modes:

stand-alone or remote controlled operation using TMCL

TM

(Trinamic Motion Control Language)
terminal mode (like MONOpack LT)
MONOpack compatibility mode

comes with PC-based demonstration and application development software
Other
Pluggable screw terminal connectors for all signals
RoHS compliant (V2 version)
size: 132 x 130 x 45mm³