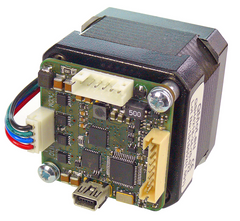 PD42-1140 PANdrive
PD42-1140
In house technical support provided for this Trinamic product.
Order the PD42-1140 cable kit here.
Product Details
Description
The PANdrive PD-1140 family is a mechatronic solution including a 40mm flange stepper motor, a controller board and a sensOstep™ encoder. It can be controlled via serial interface or operated in standalone mode. Power supply, external encoder, interface and I/Os can be connected with JST connectors.
With the advanced stallGuard2™ the motor load can be detected with high resolution. The outstanding coolStep™ technology for sensorless load dependent current control allows efficient motor operation.
The PC based software development environment TMCL-IDE for the Trinamic Motion Control Language (TMCL™) can be downloaded free of charge from the TRINAMIC website.
| | | | | |
| --- | --- | --- | --- | --- |
| | PD42-1-1140 | PD42-2-1140 | PD42-3-1140 | PD42-4-1140 |
| Flange Metric: | 42mm | 42mm | 42mm | 42mm |
| Flange NEMA: | 17 | 17 | 17 | 17 |
| Holding Torque: | 270mNm | 270mNm | 400mNm | 690mNm |
| Interfaces: | CAN, CANopen, RS485, TMCL, USB | CAN, CANopen, RS485, TMCL, USB | CAN, CANopen, RS485, TMCL, USB | CAN, CANopen, RS485, TMCL, USB |
| Product State: | active | active | active | active |
| Microstep Resolution: | 1...256 | 1...256 | 1...256 | 1...256 |
| Supported Motor Type: | Stepper | Stepper | Stepper | Stepper |
| Velocity Ramps: | trapezoidal | trapezoidal | trapezoidal | trapezoidal |
| coolStep™ | | | | |
| spreadCycle™ | | | | |
| stallGuard2™ | | | | |
| Motor Supply: | 9...28V | 9...28V | 9...28V | 9...28V |
| Height: | 28mm | 42mm | 42mm | 42mm |
| Length: | 57.5mm | 62mm | 71mm | 71mm |
| Width: | 28mm | 42mm | 42mm | 42mm |
Downloads