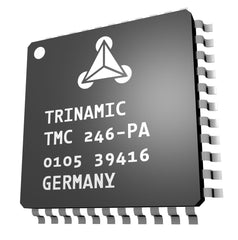 TMC246A-PA
TMC246A
 FREE SHIPPING IN US 48 - In Stock.
In house technical support provided for all Trinamic products
1000pc Pricing @ $8.08 each.
Product Details
Description
The TMC246 is a smart power microstepping driver for bipolar stepper motors. The integrated unique sensorless stall detection stallGuard™ makes it a good choice for applications, where a reference point is needed, but where a switch cannot be used. The ability to predict an overload makes the TMC246 an optimum choice for drives, where a high reliability is desired. It provides an SPI™ interface as well as the classical analog / digital control. A full set of protection and diagnostic features makes this device very rugged. The integrated low-RDS-ON TrenchFET® power MOSFETs give an extremely high efficiency and allow driving of a high motor current of up to 1.5A per phase without cooling measures even at high environment temperatures.
The small footprint and high efficiency make the device a perfect solution for embedded motion control and even for battery powered designs.
| | |
| --- | --- |
| | TMC246A-PA |
| Interfaces: | SPI |
| No. Axes: | 1 |
| Phase Current, RMS: | 1.1A |
| Phase Current, peak: | 1.5A |
| Product State: | active |
| RDSon HS: | 220mΩ(2) |
| RDSon LS: | 120mΩ(1) |
| Supported Motor Type: | Stepper |
| chopSync™ | |
| stallGuard™ | |
| Logic Supply: | 3.3...5V |
| Motor Supply: | 1...34V |
| Package: | QFP44 |
TMC429+TMC24x-EVAL allows you to explore all functions of the SPI™ chipset using the TMC429 motion controller and TMC236/246 and TMC239/249 drivers. It is equipped with the TMC246A-PA, TMC249A-SA and TMC248-LA motor drivers for high performance motor control with stallGuard™ feature. You will learn everything about the usage and features of the SPI™ chipset and get the possibility to explore your motion control application and to optimize its parameters. The evaluation board comes with a PC software which gives you access to every bit of the chipset. The TMC429+TMC24x-EVAL is a complete "plug and play" solution, additionally only a motor, a PC and a power supply are required!