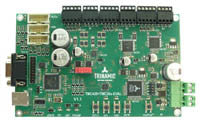 TMC429+TMC26x-EVAL
TMC429+TMC26x-EVAL
FREE SHIPPING US 48
In house technical support for all Trinamic products.
| | |
| --- | --- |
| | TMC429+TMC26x-EVAL |
| Interfaces: | RS232, USB |
| Product State: | active |
| Microstep Resolution: | 1...256 |
| Supported Motor Type: | Stepper |
| Velocity Ramps: | trapezoidal |
| coolStep™ | |
| spreadCycle™ | |
| stallGuard2™ | |
| Motor Supply: | 12...48V |
The evaluation board TMC429+TMC26x-EVAL provides an excellent, simple and cost efficient device to explore the latest generation of TRINAMIC stepper motor chipsets. The board contains the 3-axes motion controller TMC429, the three coolStep™ stepper motor drivers TMC260, TMC261 and TMC262 as well as the incremental encoder interface TMC424.
You will learn everything about the usage and features of the chipset (coolStep™, stallGuard2™, 256x µstepping, spreadCycle chopper, etc.) and get the possibility to explore your stepper motor motion control application. The evaluation PC-software gives access to every single bit of the chipset. Communication is possible either via USB (virtual COM port) or via RS232.
The TMC429+TMC26x-EVAL is a complete "plug and play" solution. It comes with the evaluation software, a USB cable and all relevant pluggable screw connectors. Additionally only a PC, one to three stepper motors and a power supply are required.
Datasheet
| File | Type | Size | Date |
| --- | --- | --- | --- |
| EVAL Manual | | 1.4 MB | Nov 4, 2016 9:23 AM |
Software
Drawings