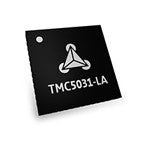 TMC5031
TMC5031
FREE SHIPPING US 48 - In Stock.
In house technical support provided for all Trinamic products
Dual axis stepper driver – two stepper axes perfectly controlled
TMC5031 stepper controller-driver IC is a powerful system-on-a-chip, integrating sophisticated ramp-generators and two power stages plus best-in-class diagnostics and protection in a tiny 7 by 7mm² QFN package. Developed with a focus on the fast growing CCTV camera market the component is well suited for other areas that require precise positioning, e.g. medical, industrial or consumer applications. The functionality embedded in the components allows for superior results concerning motor control, without the need of a deep understand of motor physics. The new IC is a game changer in arenas where time to market has highest priority, but miniaturization and cost are of importance.
6-Point Ramp Generator
TRINAMICs advanced sixPoint™ ramping profile allows for faster positioning by adding a free configurable start stop frequency to a linear motion profile plus adding a reduced acceleration value at high velocity to reduce the jerk at the end of standard acceleration ramp.With regards to faster positioning this profile can be even better than sinusoidal ramping
coolStep™
coolStep drives the motor at the optimum current. It uses the stallGuard2 load measurement information to adjust the motor current to the minimum amount required in the actual load situation. This saves energy and keeps the components cool, making the drive an efficient and precise solution. TMC5031-EVAL Software allows for easy and quick parameterization of coolStep™ for your motors and application.
TMC5031 Evaluation Board
TMC5031 Eval
provides an easy and quick start to evaluation of TMC5031. With its completely new designed desktop Software your motor will be turning after shortest time, while easy still access to all parameters and registers ist provided in a register view as well as in optimized parameterization tools.
Technical Specs
2-phase bipolar stepper motor driver
2 axis
stallGuard2™ sensorless load detection
coolStep™ load dependent current control
save up to 80% energy
spreadCycle hysteresis PWM chopper
256 μSteps/fullstep (51200 pos/rev.) with a standard 200 step motor
sixPoint™ ramp generator
Interface
Electrical Data
1.1A / Motor
4.75V to 16V motor supply
3.3V or 5V operation for digital part
Package
QFN48 7x7 mm² chip size package
RoHS compliant
Downloads