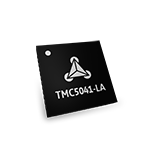 TMC5041
TMC5041
FREE SHIPPING US 48 - In Stock.
In house technical support provided for all Trinamic products
Evaluation Board
Product Details
Description
TMC5041 stepper controller-driver IC is a powerful system-on-a-chip, integrating sophisticated ramp-generators and two power stages plus best-in-class diagnostics and protection in a tiny 7 by 7mm² QFN package. Developed with a focus on the fast growing CCTV camera market the component is well suited for other areas that require precise positioning, e.g. medical, industrial or consumer applications. The functionality embedded in the components allows for superior results concerning motor control, without the need of a deep understand of motor physics.
Extending the series of dual axis stepper motor drivers TMC5041 features the all new stealthChop™ current control mode to drive stepper motors completely silent down to 0 RPM.
| | |
| --- | --- |
| | TMC5041-LA |
| Product State: | active |
| Interfaces: | SPI, Step / Direction |
| Phase Current, peak: | 1.5A |
| Phase Current, RMS: | 1.1A |
| RDSon LS: | 400mΩ(1) |
| RDSon HS: | 500mΩ(2) |
| No. Axes: | 2 |
| Supported Motor Type: | Stepper |
| Microstep Resolution: | 1...256 |
| Velocity Ramps: | trapezoidal, sixPoint™ |
| Programmable microstep table | |
| stallGuard2™ | |
| spreadCycle™ | |
| stealthChop™ | |
| short to GND detection | |
| position mode | |
| velocity mode | |
| step / direction conversion | |
| Logic Supply: | 3.3...5V |
| Motor Supply: | 5...28V |
| Package: | QFN48 (7x7) |
Downloads
App Notes

 
File
Size
Modified
AN001-spreadCycle.pdf
617.91kB
22-Jul-16
AN002-stallGuard2.pdf
492.96kB
06-Jul-16
AN009_Tuning_coolStep.pdf
331.49kB
06-Jul-16
AN028-Extending_the_positioning_range_of_TMC5XXX.pdf
121.33kB
06-Jul-16
AN030-Extending_the_position_range_of_TMC22x.pdf
54.36kB
06-Jul-16
AN031-TMC50XX_VCC_IO_supply.pdf
175.97kB
06-Jul-16
AN035-CNC_motion_with_ramp_generator.pdf
482.43kB
06-Jul-16
TMC50XX_Calculations.xlsx
93kB
31-May-15
 

App Notes

 
File
Size
Modified
Appnote_spreadCycle.pdf
582.84kB
18-Feb-15
 

Datasheet

 
File
Size
Modified
TMC5041_datasheet.pdf
2.14MB
27-Apr-16