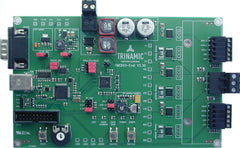 TMC603A-EVAL
TMC603-EVAL
FREE SHIPPING US 48
In house technical support provided for all Trinamic products
Manual

 


(1.93MB

 

17-Oct-13)
| | |
| --- | --- |
| | TMC603-EVAL |
| Interfaces: | a/b/n incremental, Hall, RS232, UART, USB |
| No. Axes: | 1 |
| Phase Current, peak: | 18.8A |
| Product State: | active |
| Supported Motor Type: | BLDC |
| Velocity Ramps: | trapezoidal |
| FOC | |
| Slope Control | |
| brake before make | |
| short to GND detection | |
| Motor Supply: | 12...48V |
Explore the whole functionality of TMC603 3-Phase gate driver with the TMC603-EVAL.
Later firmware versions support encoder and hall based FOC (field oriented control) control of 3-Phase BLDC or PMSM motors.
Get started with TRINAMICs TMCL-BLDC Tools and get your motor turning in position, verlocity or torque mode within minutes.
TMC60-EVAL coms with USB or RS232 interface for easy parameterization . It supports supply voltages from 12V to 48V and motors with incremental quadrature encoders (a/b/n) or hall sensors.
Downloads