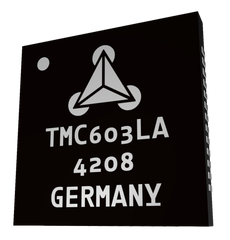 TMC603A-LA
TMC603A
 FREE SHIPPING US 48 - In Stock.
In house technical support provided for all Trinamic products
Product Details
Description
The use of BLDC motors as replacement for brushed DC motors is increasing both in EMC critical applications and in applications with highest requirements on energy efficiency.
With a sinewave commutation or field oriented control BLDC motors build silent and efficient drives for heating and ventilation or equipped with a high resolution feedback system and field oriented control also powerful servo drives.
TRINAMICs BLDC predriver TMC603 directly drives 6 external N-channel MOSFETs for motor currents up to 20A at up to 50v.
Integrated configurable slope control makes both external slope control and external EME Filters unnecessary. TMC603 current sensing network enables current sensing both with or without external sense resistor, which allows for both system cost and higher energy efficiency.
| | |
| --- | --- |
| | TMC603A-LA |
| Interfaces: | PWM |
| No. Axes: | 1 |
| Product State: | active |
| Supported Motor Type: | BLDC |
| Slope Control | |
| brake before make | |
| short to GND detection | |
| Logic Supply: | 3.3...5V |
| Motor Supply: | 12...50V |
| Package: | QFN52 (8x8) |
Downloads