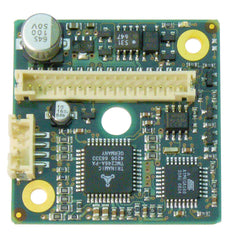 TMCM-013-42
TMCM-013-42
In house technical support provided for all Trinamic products
Description
The TMCM-013-42 is a step / direction stepper motor driver for integration directly on a 42mm / NEMA-17 motor. The TMCM-013-42-LA supports 42mm / NEMA-17 linear actuators. The parameters like motor current and µStep resolution can be changed easily using the RS-485 interface with an ASCII protocol (e.g. with Hyperterminal). Also the firmware of the module can be updated via the serial interface. All settings are stored in an internal EEPROM, so that no bus-system is required in the application. The module is fully protected and comes with a stand-alone reference search feature, using the integrated reference switch input or StallGuard?.

The module can be used in Step-Direction mode, remote controlled via a RS485 interface, or even as an option in a pseudo DC motor mode. 

The possibility to adjust the micro step resolution delivers either very high accuracy or high speed.



Follow up product


Motor Supply
7…30V
Axes
1
Phase Current, Peak
1.6A
RS485
Step/Dir
Datasheet
Documentation
Software