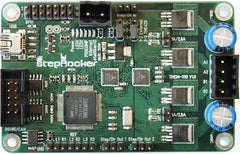 TMCM-1110 stepRocker™
TMCM-1110
FREE SHIPPING WITHIN USA 48 - Out of Stock 
In house technical support provided for all Trinamic products
Product Details
Description
The TMCM-1110 is an universal ultra low cost stepper motor controller/driver module.
The driver part offers highest smoothness and precision due to a high microstep resolution and the new patented spreadCycle™ chopper scheme for optimized current -zero crossing and -sine wave form. The integrated sensor less load detection stallGuard2™ and the load dependent current control coolStep™ make this board unique. This features make it the first time possible to drive a stepper motor energy efficient!
The integrated ramp- and pulse generating positioning motion controller can be attached via USB or RS485. Up to 3 driver can be controlled simultaneously. A 3-axis application can easily be build by connecting two external drivers (e.g. additional stepRocker™) via step & direction signals.
Software wise two different approaches are possible:
It is possible to use the stepRocker™ with the TrinamicMotionControlLanguage TMCL™. The board comes with the preinstalled firmware. The integrated development environment TMCL-IDE for PC can be downloaded and used free of charge. It is possible to remote control the stepRocker™ or to write and download complete command sequences for stand-alone use.
Alternatively it is possible to write the firmware for the SAMSUNG microcontroller using the downloadable software tools and motion control libraries. Please visit www.stepRocker.com for additional information, downloads and user forum.
For the first steps only a power supply, a stepper motor and a PC are necessary.
| | |
| --- | --- |
| | TMCM-1110 |
| Interfaces: | a/b/n incremental, RS485, USB |
| No. Axes: | 1 |
| Phase Current, RMS: | 2.8A |
| Phase Current, peak: | 3.9A |
| Product State: | active |
| Microstep Resolution: | 1...256 |
| Supported Motor Type: | Stepper |
| Velocity Ramps: | trapezoidal |
| coolStep™ | |
| spreadCycle™ | |
| stallGuard2™ | |
| Motor Supply: | 10...30V |
| Length: | 85mm |
| Width: | 55mm |
Downloads