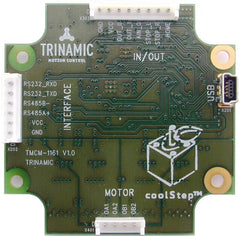 TMCM-1161
TMCM-1161
FREE SHIPPING WITHIN USA 48 - Now In Stock.
In house technical support provided for all Trinamic products
Order the TMCM-1161 cable kit here
Product Details
Desciption
The TMCM-1161 is an intelligent stepper motor controller/driver module featuring the new outstanding coolStep™
technology for sensorless load dependent current control. This allows energy efficient motor operation. With the advanced stallGuard2™ feature the load of the motor can be detected with high resolution. The module is designed to be mounted directly on a 57mm or 60mm flange QMot stepper motor.
It converts the motor into a compact mechatronic device with serial bus oriented or standalone control. The TMCM-1161 comes with the PC based software development environment TMCL-IDE for the Trinamic Motion Control Language (TMCL™). Predefined high level TMCL™ commands guarantee a rapid development of motion control applications.
Communication traffic is kept very low since all time critical operations, e.g. ramp calculation are performed onboard.
| | |
| --- | --- |
| | TMCM-1161 |
| Interfaces: | RS485, USB |
| No. Axes: | 1 |
| Phase Current, RMS: | 2.8A |
| Phase Current, peak: | 3.9A |
| Product State: | active |
| Microstep Resolution: | 1...256 |
| Supported Motor Type: | Stepper |
| Velocity Ramps: | trapezoidal |
| coolStep™ | |
| spreadCycle™ | |
| stallGuard2™ | |
| Motor Supply: | 10...30V |
| Length: | 60mm |
| Width: | 60mm |
Downloads