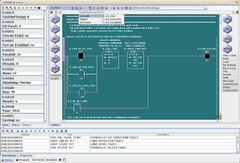 TOPDOC NexGen, SoftPLC Development/Maintenance Software: TDNG-FN
TDNG-FN Overview
TOPDOC® NexGen is the programming, configuration and maintenance software for SoftPLC PACs and Gateways. TOPDOC provides a complete set of tools:
Ladder logic program development
Ladder logic documentation & reports
Controller, I/O and communication driver configuration
Online monitoring & troubleshooting
TOPDOC is available for Windows and Linux operating systems. Multi-user and Site Licenses are available, contact us for pricing and details.
Package includes CD, USB copy protection key/dongle, and Installation/Quick Reference Manual.
Other Suggested Products