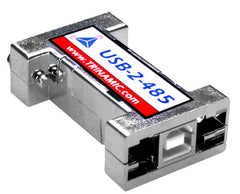 USB-2-485
FREE SHIPPING IN U.S. 48
In house technical support provided for this Trinamic product.
USB Interface Converter to RS485 with Virtual COM Port Driver
The USB-2-485 device is a low-cost interface converter that supplies a simple-to-use RS485 interface to a PC with an USB port. The USB-2-485 device can be used erverywhere where an RS485 interface is needed, since it does not require special software. It can be operated with most simple terminal programes supporting the serial interface. The software supplied with this product can be used with every version of the Windows operating system that supports USB (Windows 98, Windows ME, Windows 2000, Windows XP). The USB-2-485 device can be connected to USB 1.1 or USB 2.0 hosts and supports the full bitrate of 12MBit/s. It is fully powered by the bus, so no extra power supply is needed.
USB host interface
Connection to USB 1.1 or USB 2.0 hosts possible (a cable is included)
USB full speed device (12MBit/s)
Bus powered (no extra power supply needed)
RS485
half duplex communication mode
supports all standard baud rates
up to 3Mb/s supported
Software
Virtual COM port driver included
Can be used with standard terminal programs, e.g. Hyperterminal
RoHS compliant